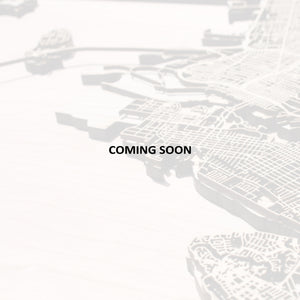 MAP ORDERS SHIP THE SAME DAY!
COMING SOON: Detailed laser cut wooden map of Pittsburgh, PA.
The map you'll receive will be unique. The wood texture and color might not match the photos, given the natural grain of the wood. All photos are of real wooden maps and have not been altered in any way. We do not apply any varnish to our maps in order to maximize the natural appearance of the wood.
Our maps are the perfect gift for any special occasion. The natural grain of the wood gives them a beautiful appearance, while the exposed screw heads and minimalistic design with a built-in frame is the perfect addition for any room whether you are going for a rustic or modern design.
Three layers of laser cut wood
Our maps are precisely manufactured using laser cut technology and then assembled by hand in San Francisco, California.
A cherry veneer MDF layer for the water (oceans, lakes, rivers and more), with beautiful natural wood patterns and detailed laser engraving of even the smallest island.
A white oak veneer MDF layer with the land area laser cut to perfection.
A bamboo plywood layer for the frame and detailed laser cutting of every road, highway, pier, bridge and more!
Covered on top by a durable acrylic glass layer to protect your beautiful wall art for a lifetime. The acrylic glass can be taken out by removing the screws that hold all 4 layers together, if you'd rather display it without any protection.